The laying of HO lanes - a first try
Roco lane code 100, Roco and Peco turnouts ... for the laying of the HO lanes of our stations. They are held by screws and washers, I respect the 5cm mini for the width of the platforms.
Tous les rails et aiguillages sont posés sur une plaque unique (même si elle repose sur plusieurs modules, ce réseau point to point n'étant pas destiné à voyager ou à être exposé) cela permettra de travailler plus facilement en retournant chaque plaque, indépendamment pour le câblage et ce en dehors du réseau (sur 2 tréteaux par exemple ou une table). 
Voilà un premier résultat plutôt satisfaisant…
Gare de Villeneuve  (sur la gauche du réseau ): par rapport au plan que je vous présentait il y a quelques semaines, le plan de voie aurait du être comme ceci…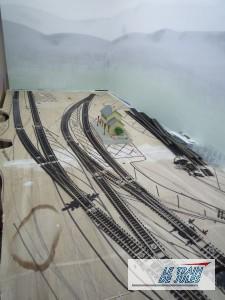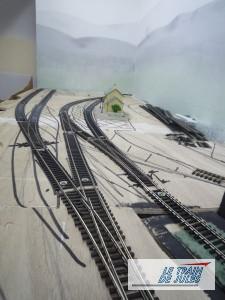 Pour la gare de St Antonin (à droite) : même chose, voici les voies posées comme sur le dessin d'il y a quelques semaines…
Maintenant que les rails sont préposés, après avoir tracé je vais tout démonter… percer les trous pour les moteurs d'aiguillages et d'installer les semelles (les vis et rondelles seront enlevées après le ballastage…).
Les moteurs seront insérés dans les plaques (ce qui permet une maintenance pas le dessus, en cas de panne, on changera le moteur tout simplement en démontant l'aiguillage).