Background colors, color backgrounds
I now go to the Couleurs de fond, the colors that will allow us to no longer see the white plastered bands and that will serve as a support for the colors of our decor.
Nous allons, chez Raoul Lagrume – déforestation Père et fils, nous retrouvez au milieu des bois, donc, des Couleurs de fond qui sentent le sous-bois, l'humus, la fougère… je vais donc choisir comme Couleurs de fond, du marron et du vert pour annoncer la présence de fougères et d'herbe des sous-bois.
Je me procure des atomiseurs , des bombes de peinture de chez DALBE (vous choisissez vos couleurs dans Arts graphique/ atomiseurs et aérographie).
J'ai pour ma part, choisi les références 152 (vert kaki, celle du nuancier en ligne n'est pas terrible) et 161 (Marron chocolat) que j'ai acheté chez mon marchand d'art graphique.
Je cache avec du scotch de peintre la partie chargement, le mur, la route avec le PN. Petit bout de scotch aussi sur les parties commandes des aiguilles, attention… la peinture est grasse !
C'est parti pour les couleurs de fond.
Je fixe entre eux les 2 modules et direction le grand air… le jardin ! Pour peindre à la bombe c'est mieux.
Coups de bombe, légers et sans trop insister mais en couvrant tout… coups de vert sur les volumes pour les Couleurs de fond des sous-bois.
Je laisse sécher en surface et je remonte mes modules en évitant d'en mettre partout.
Le nettoyage.
Les scotchs de protection sont enlevés… et les modules restent quelques jours sans être touchés pour un véritable séchage.
Les Couleurs de fond sont sèches, un coup de nettoyage sur les rails… et voilà ce que ça donne avant / après.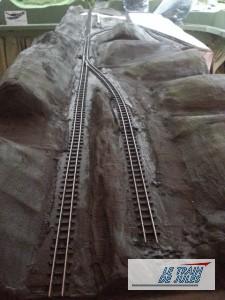 1er essai de circulation du locotracteur HOe (alimentation avec les pinces crocodiles), vérification des aiguilles. Je vais peindre les flancs des rails couleur rouille (Humbrol 70)
Les modules sont prêts à accueillir le ballast, les terres à décor, la végétation et tout le reste… dont nous reparlerons bientôt ici.
Pour le moment les modules sont mis sur la tranche et je vais passer au câblage électrique et à la mise en place des TCO.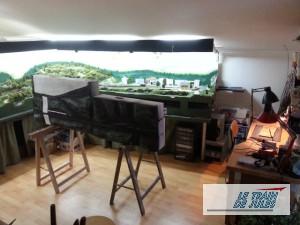 Mon collègue modéliste Martial Cure réalise les bâtiments (maison et atelier) je vais les récupérer (non finis) pour définir une fois pour toute… leurs positions.