Digitaliser a Y 7400 LS Models.
This locotractor Y 7400 LS Models is a beautiful locotractor (like the 6400 from EPM from the same house for manufacturing).
The problem is that the Belgian brand does not even have a pin for the installation of a simple decoder ... and it is also the case on newer models!
So ... hacking obligation for digital operation.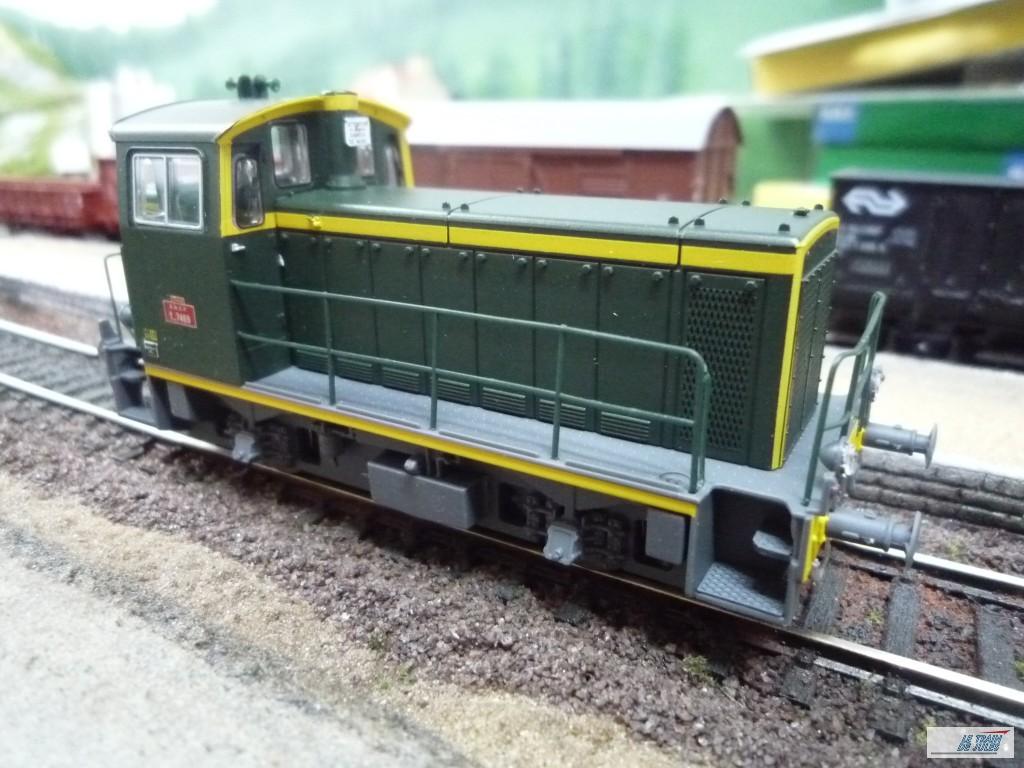 Vous pourriez adapter par exemple, un décodeur sonore ESU Locksound V3.5 / V4 (décodeur déjà adapté sur le 6400 EPM – LS Models)… mais vous allez être contraint par le manque de place.

Vous pourrez aussi mettre sur ce locotracteur un décodeur plus petite taille, c'est ici le cas… avec un Lenz Gold Mini – 500ma.
Le montage du décodeur sur le Y 7400 LS Models.
Le décodeur s'adaptera sur une broche NEM 651 (broche 6 picos en ligne – attention au sens de connexion… référez à la notice de montage du décodeur).
1 – Démontage du locotracteur.
Enlevez les trois vis sur la plaque longitudinale sous l'engin.

Enlever les boitiers NEM (attelages), les rambardes longitudinales.

Dévisser les 3 vis qui tiennent les parties supérieures du locotracteur (elle sont situées sous les boitiers NEM que l'on vient d'enlever) 2 d'un coté… 1 de l'autre.

Maintenant, avec minutie, vous enlevez la cabine, puis le bloc moteur avec le lest à l'intérieur.
2 – vous percez ou vous enlevez…
soit vous percez la cabine et le lest de l'Y 7400 LS Models…

soit (et c'est le mieux) vous enlevez carrément le tableau de bord du locotracteur et vous passez les fils par le trou (prévu à cet effet) dans le lest.
3 – Passez les fils le long du moteur… et mettez les 2 fils le Jaune et le Blanc de coté (sauf si vous avez décidé de vous attaquer à la pose de phares… Avec par exemple des minis led – de chez Miniatures passion par exemple et c'est un autre sujet).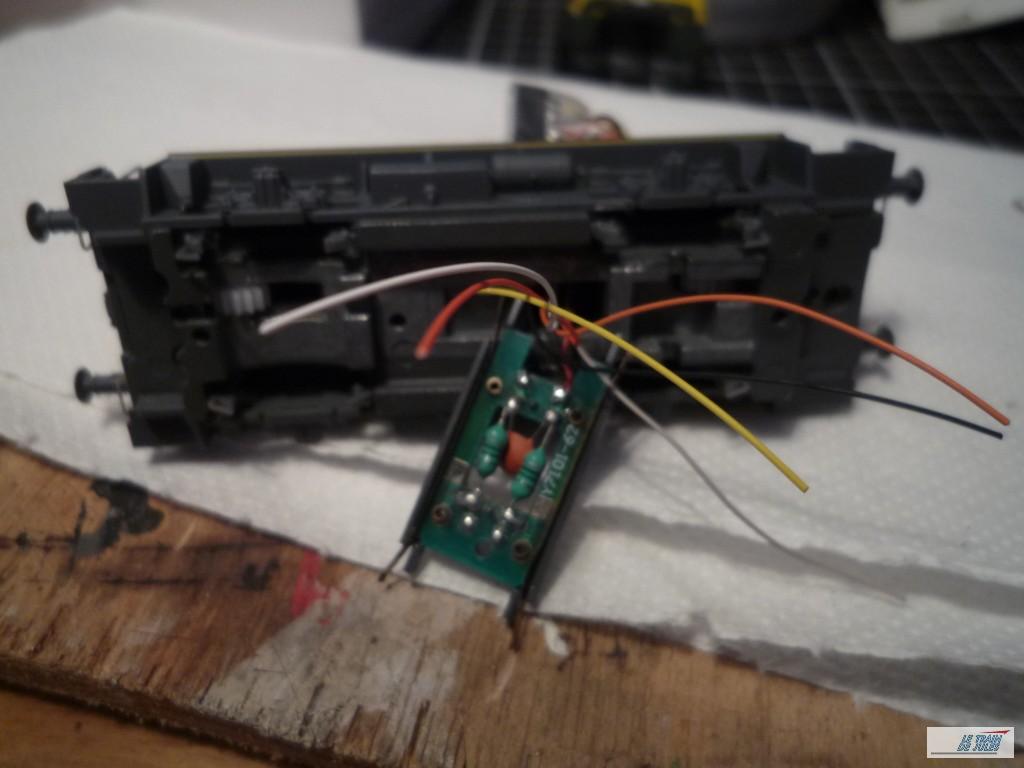 4 – Conservez les fils orange, noir, gris et rouge… vous allez les souder selon les schémas sur le Circuit imprimé du locotracteur avec pour vous 2 possibilités… voici deux schémas :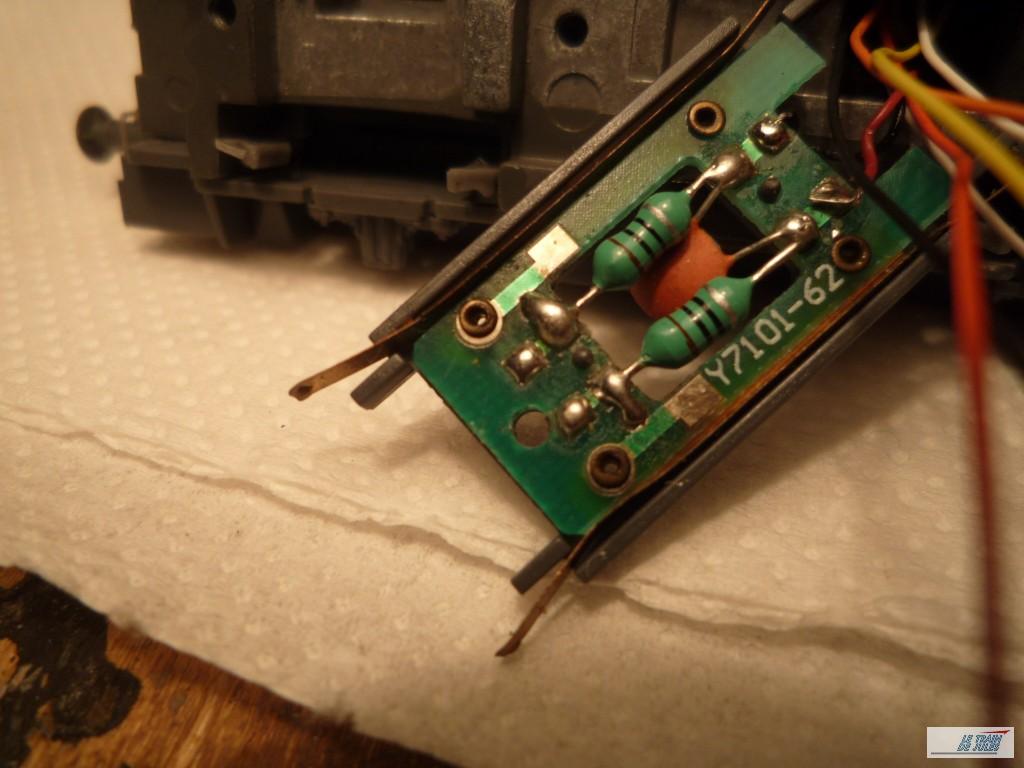 Soit vous enlevez les résistances et vous soudez les fils Orange et Gris sur les plots d'arrivée des fils du moteur (Gris sur le Rouge et Orange sur le Noir).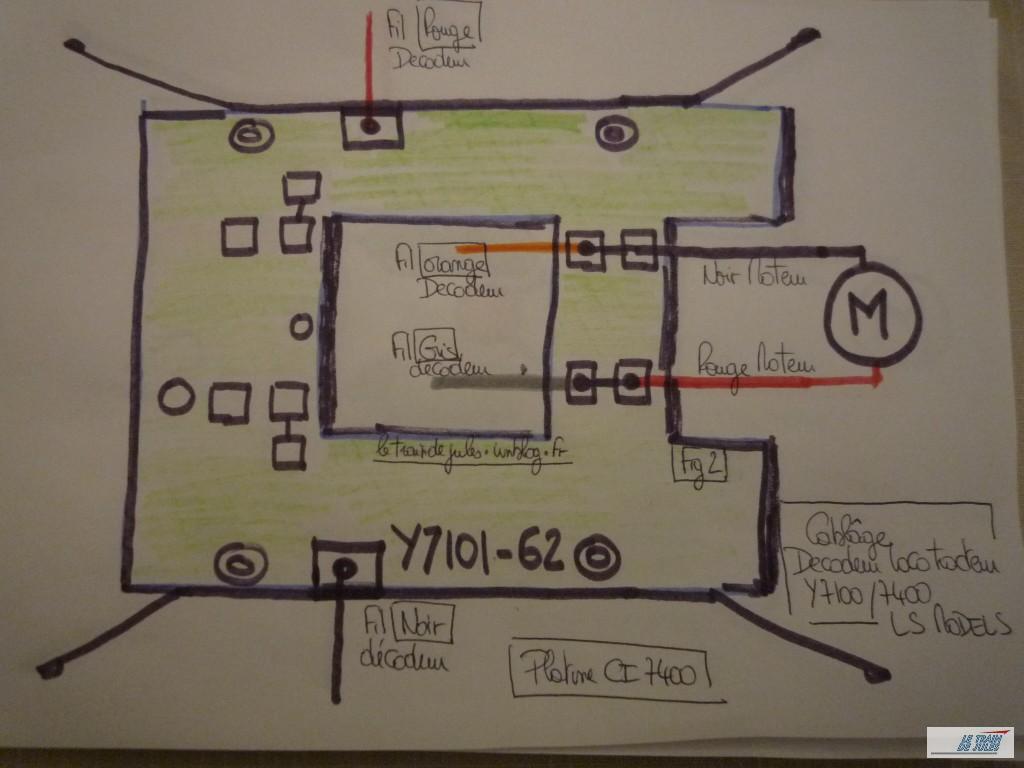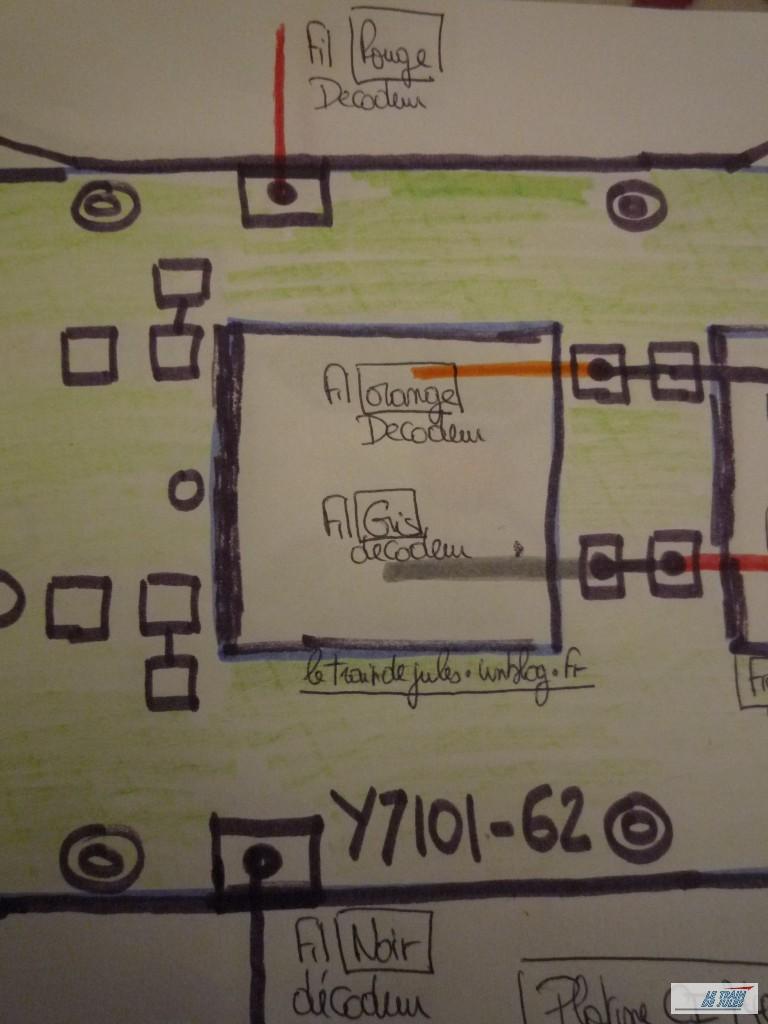 Soit vous soudez vos fils à la suite des résistances en prenant bien soin de les séparez (en coupant la soudure) des prises de courant (lamelles – fils Noir et Rouge).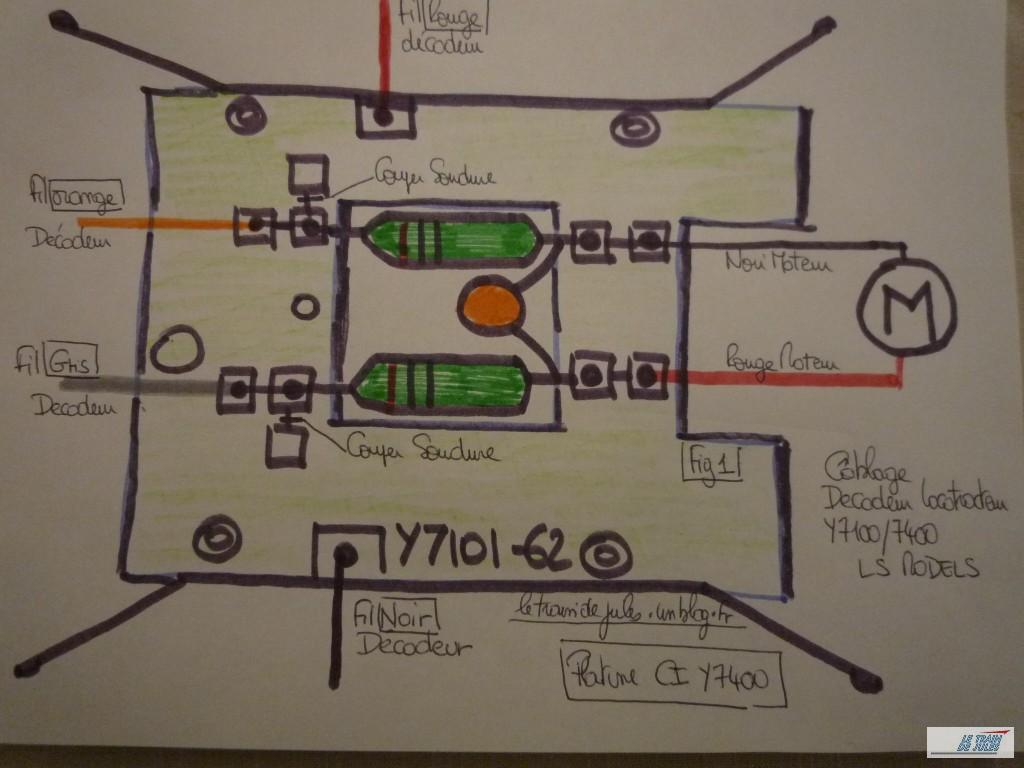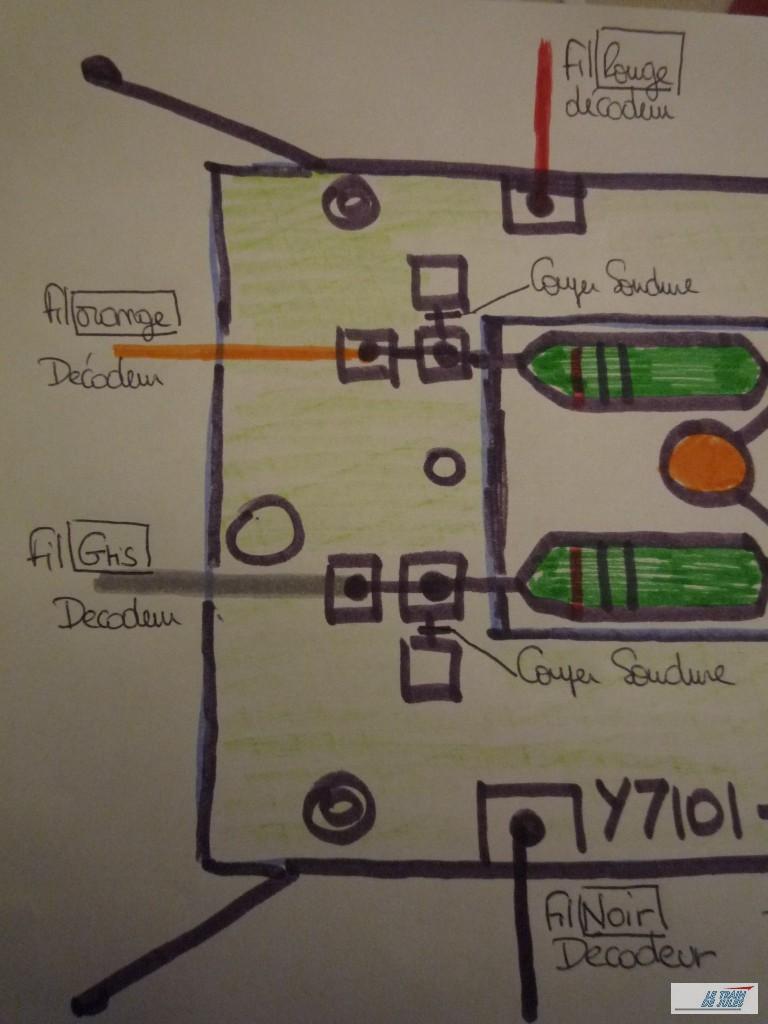 Raccordez les fils noir et Rouge du décodeur aux prises de courant (Lamelles).
Ensuite remontage et test…
Vous pourrez être ammené à réinitialiser le décodeur (si il avait déjà servi) et lui donner une nouvelle adresse et un nouveau Cv machine en rapport avec sa nouvelle installation.

[su_label type= »important »]Attention[/su_label] Montez bien le décodeur dans le bon sens !!
Bon bricolage.
[su_label type= »important »]Attention[/su_label] Cet article n'est que le reflet d'une expérience et n'est en aucun cas une notice de montage… attention à vos manipulations dont vous êtes les seuls responsables.