HO relief for modules.
The way is laid ... the needles are tested ... everything is fine.
We must now move to relief. This relief HO must be simple to achieve and especially lightweight to allow easy transport modules.
The relief of module 2 is made with pieces of expanded polystyrene, that of module 1 with strips of cardboard.
The manufacture of relief Ho ...
Je découpe des lamelles de carton, d'environ 2 cm de large, que je vais fixer, à chacune de leurs extrémités, collée ou avec une agrafe. Les lamelles sont entrecroisées et collées entre elles… je les maintiens en place avec des pinces à linge . voilà ce que ça donne, c'est beau !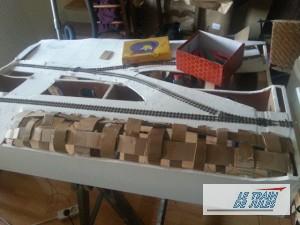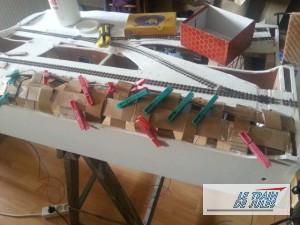 Quand les différents volumes sont mis en forme, je colle dessus du papier journal… j'utilise un bon pinceau, je badigeonne généreusement… la colle en séchant va rigidifier l'ensemble !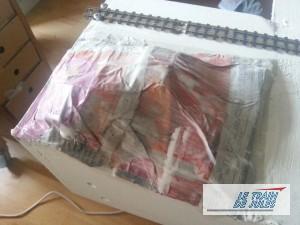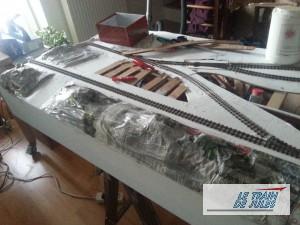 Les volumes apparaissent petit à petit.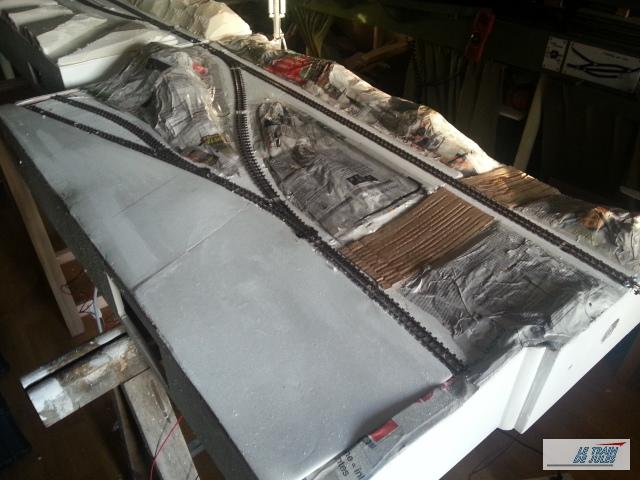 Les bandes de plâtre…
Les volumes sont maintenant en place. Le papier journal encollé en séchant sur les lamelles de carton, nous donne des coques rigides et légères.
L'étape suivante est plutôt salissante… les modules passent à l'extérieur (ça tombe bien le beau temps est au rendez-vous).
J'utilise de la bande plâtrée, une paire de ciseaux et je m'applique. J'en ai tellement fait sur le réseau que ça va plutôt tout seul.
Le module 2
Avec la bassine, je mouille les bandes plâtrées et je les applique sur les reliefs en polystyrène expansé (reliefs au départ mis en forme au cutter) qui ont été collés au préalable.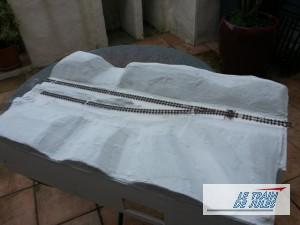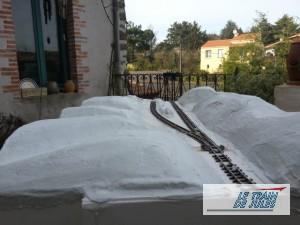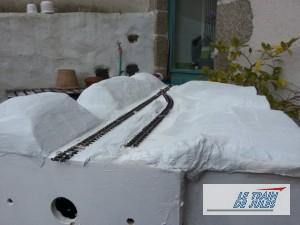 Le module 1
Même principe. Les parties route, cour et quai de chargement sont faites avec du Dépron 3mm collé. Le Dépron marque facilement mais ce n'est pas grave… cela crée automatiquement les défauts du relief. Les bandes plâtrées sont posées… on unifie le tout comme pour le module 2 avec un pinceau large et un peu d'eau.
On dirait qu'il a neigé !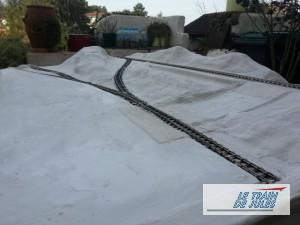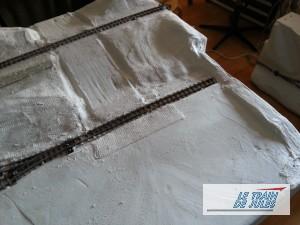 Le tout doit sécher… cela prend un peu de temps.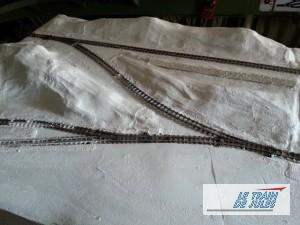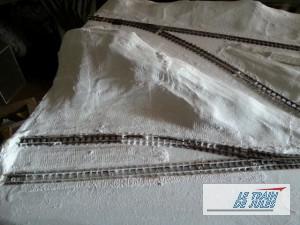 Ensuite nettoyage… un petit mur de soutient en mis en contrebas de la voie principale. Je l'ai réalisé grâce avec un moule, qui fait partie des moules en résine que j'ai largement utilisé pour les maçonneries du réseau. Ce mur est collé à la colle à bois, la partie supérieure (pierres de parement) est faite en Dépron gravé.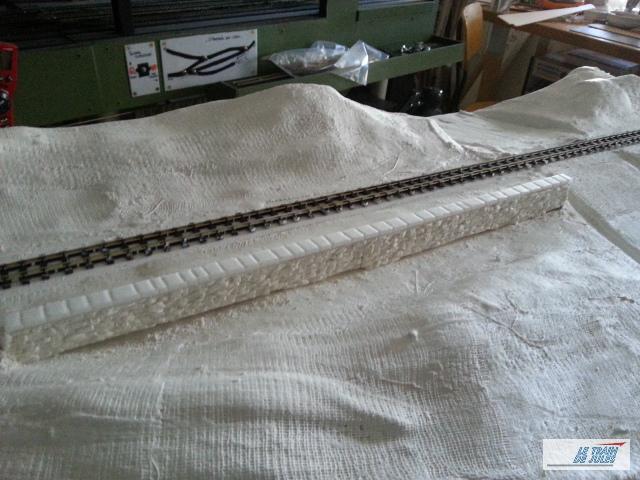 Voilà pour la matérialisation du relief. Je vais maintenant peindre à la bombe (marron chocolat, et un peu de vert qui seront nos couleurs de fond) des bombes de peinture qui viennent de chez Dalbe (atomiseurs) et que j'ai acheté un peu plus de 4 euros dans un magasin d'arts graphiques.
Il faudra avant tout, protéger le mur, la route, la cour et le quai de chargement avec du scotch de protection.