Patina house Lagrume
It is Martial Cure who, of some pieces of cardboard and with the help of his Craft Robot, realized the family home of Lagrume Père & Fils.
It will have to integrate now to the decor of our modules Ramma 2015. But before all that, with the permission of Martial, I will make a small homemade patina.
So this homemade patina ...?
Le but est de matérialiser l'usure du temps sur le bâtiment ! Ne pas avoir l'impression que la maison est neuve…
Il me suffit de créer dans un premier temps un jus noir très léger (un peu de noir dans un pot à yaourt et beaucoup d'eau et agiter copieusement) pour assombrir l'ensemble et ensuite avec de la terre d'ombre naturelle, je vais « salir » un peu l'ensemble (on applique avec douceur et avec un pinceau et ensuite le surplus de terre à décor est enlevé avec une brosse douce…)
ATTENTION à l'afflux d'eau qui pourrait décoller certaines pièces en carton de la maison (notamment les petites pièces qui apportent par endroit de la surépaisseur).
L' appentis recevra un traitement un peu particulier. La porte du garage sera patinée et salie et le toit (couvert de taules métalliques) recevra en plus des taches de rouille réalisées comme toujours avec notre peinture Humbrol 70 et voilà le résultat :
Un soin particulier sera apporté à chaque façade.
Le blanc de l'appentis sera sali avec des coulures venues de la couverture…
Le mur contre la voie est plus exposé aux intempéries…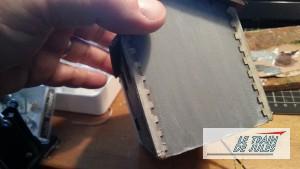 Et voilà le résultat… le portail est légèrement laissé ouvert pour suggérer l'activité permanente. Il faudra penser à mettre des objets dans le garage lors de l'intégration sur le terrain.
Ensuite prévoir la mise en place des gouttières et des descentes eaux pluviales avec un kit Décapod.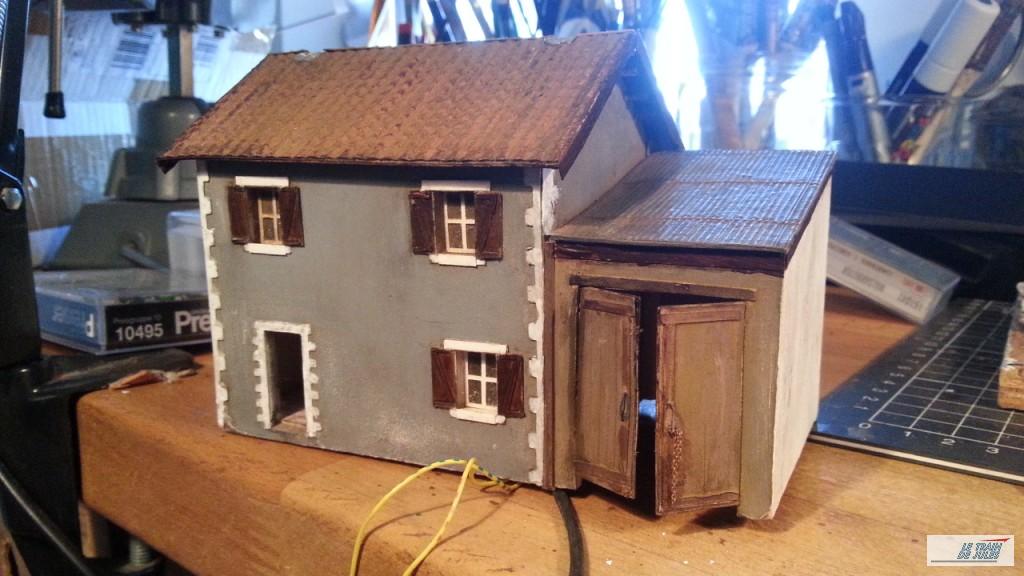 2 systèmes d'éclairage ont été mis en place dans la maison Lagrume, il s'agit de parties de rubans 3 leds. Ces éclairages seront reliés à une sortie accessoire de transfo… ce qui apportera encore une animation supplémentaire !
La maison est prête à être intégrée au terrain, à nos modules… Martial réalisera les cheminées qui seront placées plus tard sur la maison.