Patine à l'aérographe : CC 72000
The airbrush patina of a motor or a car ... have you ever thought about it?
Yes, but ... You have not taken the step.
Video tutorial for the patina of a motor by Laurent Raboteau de Depann'loco at the end of this article
But first…
The material for the airbrush patina!
Le compresseur : Il est nécessaire d'avoir un compresseur qui va fournir, branché au secteur, l'air comprimé pour permettre le fonctionnement de l'aérographe (piston à huile + cher, mais plus silencieux – Piston à sec un peu plus bruyant, mais moins onéreux).
Comptez en moyenne entre 60 et 150 euros pour votre compresseur en fonction de votre choix.
Certains modèles coutent plus de 300 euros…
L'aérographe Vous avez des boites aérographe dès 20€, comptez une centaine d'euro pour un coffret de la marque Paasche – Vous avez également des duos compresseur + aérographe vers les 250 / 300 euros.
Prévoyez aussi le kit peinture pour la patine (kit AMF 87 railcolor ICI par exemple), acétone et le matériel annexe.
Inspirez vous de ce que vous pourrez voir dans la gare ou le dépôt prêt de chez vous, de photos et faites des essais dans un premier temps sur du vieux matériel…
Acquérir une certaine dextérité va vous prendre du temps. Il va vous falloir de la patience.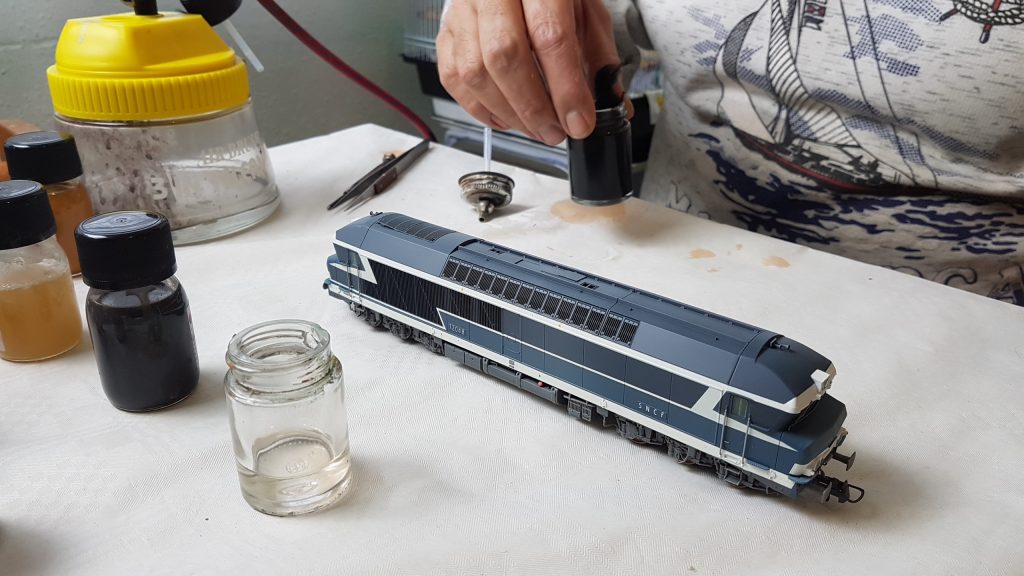 Ici la motrice traitée (CC 72000 Roco) par Laurent Raboteau de dépann'loco à une teinte trop plastique. Laurent atténue ce coté neuf par un voile blanc.
Premièrement, vous allez peindre les essieux avec une teinte rouille et essuyer la partie roulement.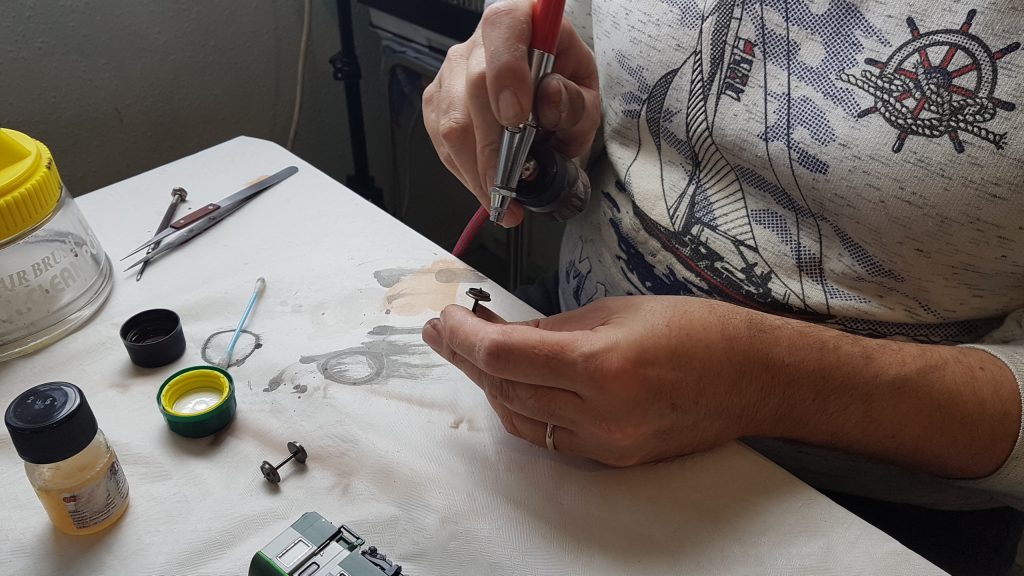 Les 6 essieux sont prêts et après peinture ils sont remontés sur la machine !
2 – le voile de blanc.
3 – Coup de noir sur les échappements en toiture.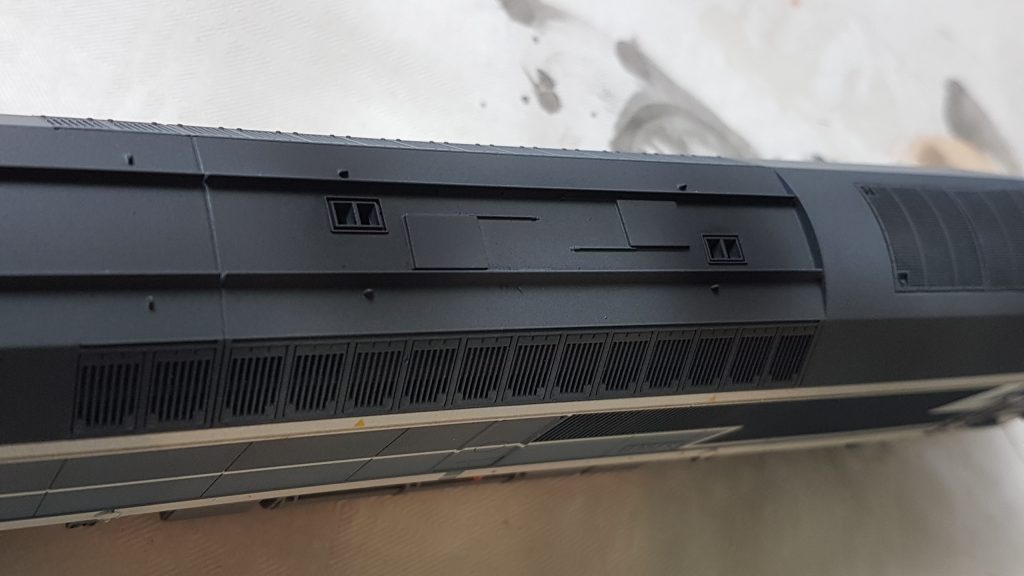 4 – Patine un peu crasse des bas de caisse et des bogies.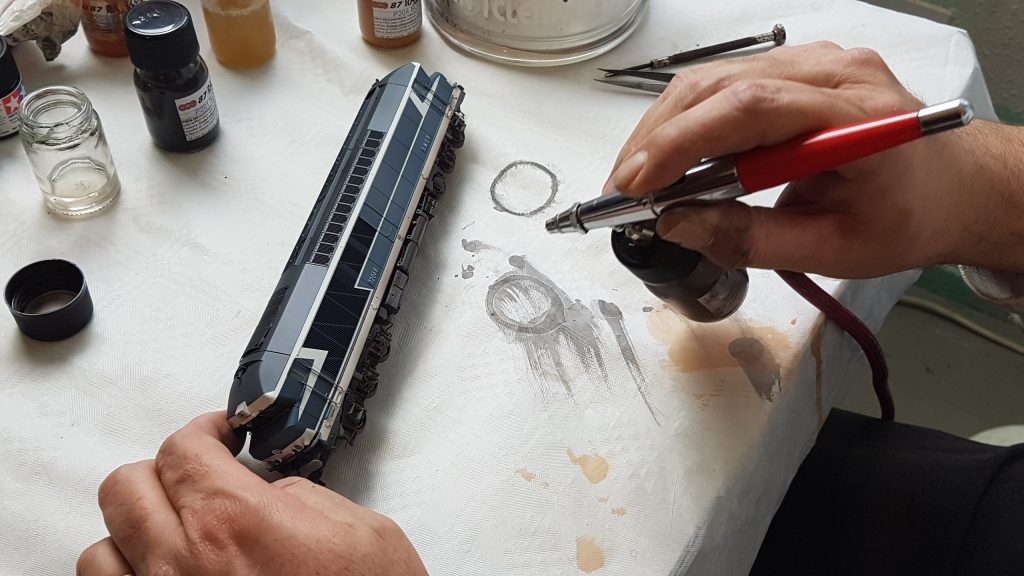 5 – Patine à l'aérographe des bouts de caisse, traverses et tampons.
6 – Dernière opération avec les coulures de gasoil, au niveau des bouchons de réservoir.
Précision de Laurent Raboteau : La patine n'est pas une peinture, conservation des teintes d'origines auxquelles vous donnerez, avec la patine, un coté usagé.
Selon vos envies, elle pourra être variablement appuyée.. vous pourrez donner ainsi un aspect plus ou moins usagé à votre matériel.
Une bonne vidéo en 2 parties vaut mieux qu'un long discours.
Vidéo tutoriel patine 1ère partie :

Vidéo tutoriel patine 2eme partie :
Pour toutes réalisations de patines ou autres travaux sur votre matériel roulant, depann'loco : depann-loco.e-monsite.com