The network layout Ho No. 1.
J'ai débuté le tracé du réseau . Mes alliés… le crayon de papier, la gomme évidemment et une petite ficelle pour le dessin des courbes et quelques normes aussi, car une question s'est rapidement posée…
How far between the tracks, in full lane, in curve and in a station?
Je suis allé fouiner du côté des normes européennes de modélisme, le MOROP avec les recommandations pour l'entraxe des voies (NEM 112, normalisation datant de 2004). Celles-ci indiquent, entre deux voies en HO, un entraxe de 46 mm en pleine voie et 52 mm dans les gares (il s'agit bien sûr d'entraxes minimum…).
Il est également fourni une abaque pour les différents entraxes des voies en courbe, donné en fonction du rayon de la courbe.
Nous avons maintenant tous les éléments en main pour débuter notre tracé. Différents plateaux (en contreplaqué de 10 mm) ont été posés sur les modules pour notre traçage à plat. Evidemment les contre-plaqués seront découpés et fixés en fonction du relief à différents niveaux :
La gare de St ANTONIN (à droite du réseau sera à + 16 cm), la partie ville au premier plan à + 4 cm, la gare de VILLENEUVE s/Vère sera elle aussi à + 4 cm. Ce + 4 cm va nous servir de niveau
d'origine et nous permettre de réaliser le lac et la rivière en relief négatif, au niveau 0 cm.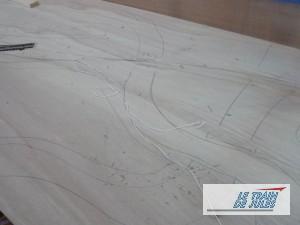 Voilà un premier jet, pour notre tracé, avec la future gare de St Antonin…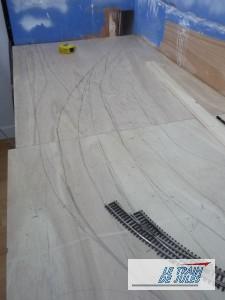 et celle de Villeneuve…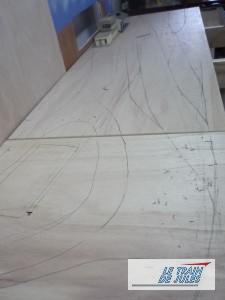 Il faudra évidemment peaufiner le tracé du réseau HO… nous en reparlerons…