Ho city comes to life
The city HO comes alive, the buildings are quite easy to do, be careful not to put too much glue (This is also stated in the instructions ... photo film pot and small brush) thicknesses sometimes at least make that the cartons sometimes tend to curl. I use wood glue for a quicker grip.
Maquettes livrées avec kit élec (résistance + diodes et schéma bien expliqué pour ceux qui n'ont pas trop l'habitude). Je met toujours un peu de peinture rouille sur les diodes (éclairage) pour rendre un coté + jaune à la lumière. Les toits ont été réalisé avec de la tuile Redutex collée sur le carton imprimé. Un coup de terre à décor et de dry brush avec du blanc sur le toit et voilà le résultat !
De jour…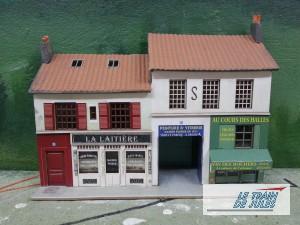 De nuit…