2 drawers for the network
2 drawers for the network were installed on both sides to facilitate the maneuvers, they are after the last needle ... and measure 50 cm long ... Here are 2 pictures of the right and one of the left ...
Une surface boitier a également été ajoutée à l'avant du réseau avec un rail, pour permettre la  programmation des CV motrices… les traces de peinture correspondent aux finitions de la gare cachée. La façade avant sera peinte plus tard en vert kaki foncé. Des rideaux de la même couleur ont été confectionnés et cacheront le dessous du réseau (ils seront fixés sur un câble métal après les travaux de peinture )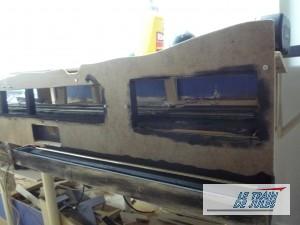 Les  câblages ont commencé, comme la pose des voies.