RailExpo 2016
RailExpo 2016 had, this year, left the north-west of Paris to join the southwest, the city of Chartres in the Eure and Loir.
The opportunity for everyone to shop before the winter.
You will not have in this article, a global vision of the exhibition, but some details pecked here and there, which could have caught your attention.
Certains participants ont déploré (notamment les commerçants présents et on les comprend…) la proximité (dates et géographique) des salons de Chartres et d'Orléans (Railexpo 2016 et le 15 eme salon du train, dont nous reparlerons très prochainement ), le porte-monnaie des passionnés n'étant pas extensible…
Si certains artisans avaient apporté leur nouveautés (que vous examinerez en détails dans le LocoRevue de Décembre 2016) vous apprécierez leur showroom d'une qualité remarquable.
La preuve…
RailExpo 2016 les exposants…
Avec le diorama réalisé pour le Stand Sylvia SDD
Toutes les couleurs de la nature… On peut faire difficilement plus fourni…  mais c'est pour une bonne raison !
RailExpo 2016 – Les maquettes !
Avec par exemple ici les maquettes de présentation de Régions et Compagnies qui sent bon les années 60 !
D'autres fournitures, coté maquettes… letraindejules.fr est passé par le stand de Christophe Constant – Architecture et passion (voir Vidéo Live Facebook plus bas).
Sur le stand EPM
Premiers prototypes des coques du futur RTG de la marque…
Des réseaux (bien moins nombreux que dans une exposition plus traditionnelle)  comme ici le téléphérique du TEE 91  le Train Etampes Express 91
Magnifique maquette pour la présentation des produits PN Sud Modélisme plus spécialisé dans les ouvrages d'arts ponts, transformateurs…
Au détour de RailExpo 2016 des choses surprenantes…
Comme cette maquette venue d'Espagne, vous avez là du 1/24eme ou 1/22e… ? Le BV de Santa Eugénia.
4 ou 5 marques ou créations espagnoles avaient fait le déplacement à RailExpo 2016 notamment les textures Redutex.
Des nouveautés vapeurs avec Fulgurex (hors budget 🙂 )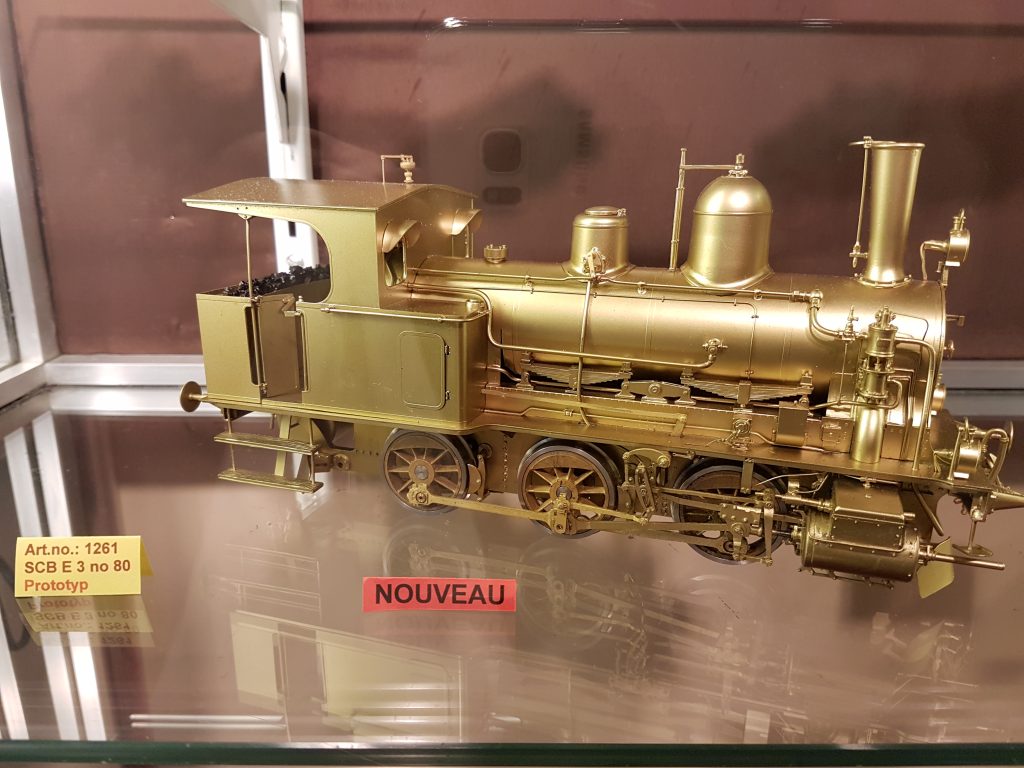 Parmi les maquettes : The A.A.R.P. Mining & Co. Nous sommes à l'échelle On30 au 1/48eme (voir vidéo plus bas ).
RailExpo 2016 les vidéos !
Pendant cette édition letraindejules.fr vous a fait vivre quelques moments en direct pour découvrir maquettes et produits des artisans.
A retrouver ici les Vidéos Facebook Live réalisées en DIRECT sur la page facebook letraindejules
The A.A.R.P. Mining & Co avec la présentation de Dominique Aumenier l'un des 4 réalisateurs de la maquette.
La Gare de Juvisy et le dépôt Nord, Echelle O – 1/43eme
Christophe Mathieu pour la présentation des produits / nouveautés Décapod
Voilà pour un tour, loin d'être exhaustif, de RailExpo 2016. Vivement l'édition 2017.