Shops Jouef refurbished
You find them everywhere, for almost 3 times nothing, you had them being small on your network, your dad heaps them can be in a cardboard attic with other old buildings Jouef ...
You will try to do something ... To make your little village of Montjustin Station.

Full details of all operations in the No. 29 key for the model train.
How to go with these shops Jouef?
Ici nous nous sommes procuré un lot de 3 maisons + une que nous allons laisser de coté.
Vous enlevez les semelles (ces bâtiments, comme les autres du réseau, seront intégrés dans le sol).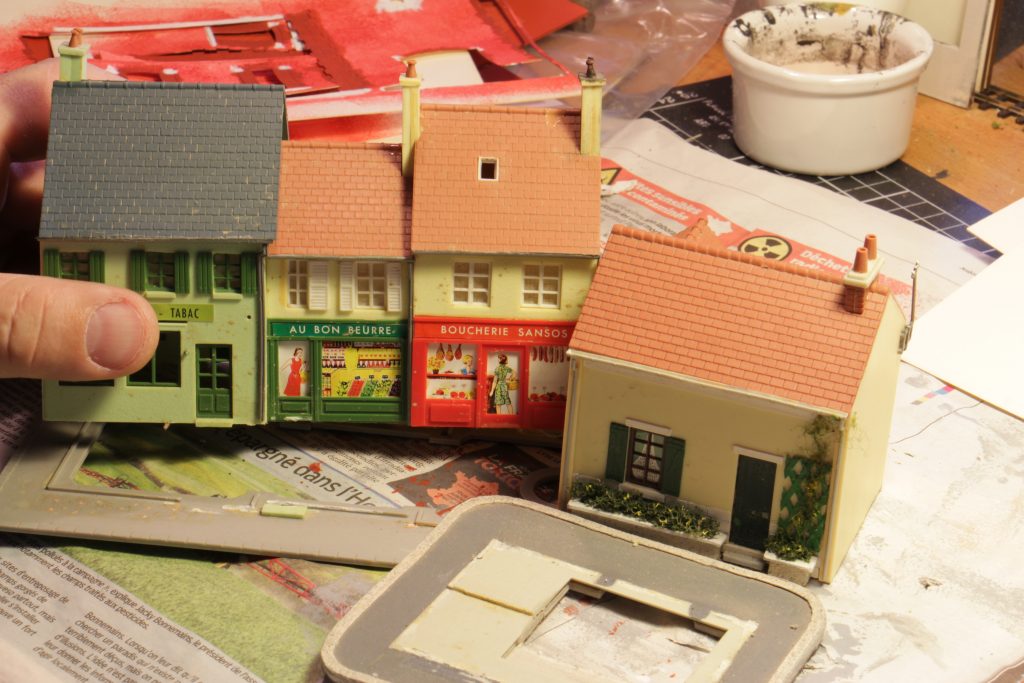 Total démontage (sauf les huisseries: bâtis portes & fenêtres). Vous désolidarisez les bâtiments pour les rendre indépendants.
Vous allez créer en carton épais 2 façades pour la petite maison centrale + 2 façades pour le coté intérieur des maisons disposées à chaque bout !
Maison centrale : dimensions : 4 cm x 5 cm et Hauteur centrale 6 cm voire moins… Un 1er essai sur le réseau.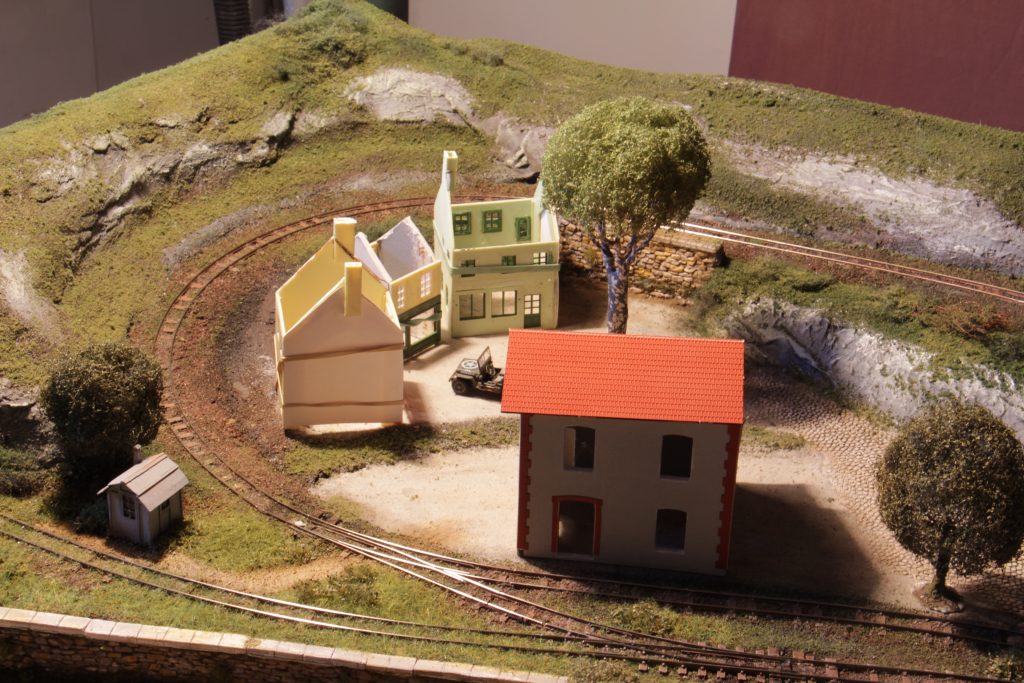 Coup de primaire Tamya (surface primer) pour chasser les couleurs criardes.
Tuiles rédutex + descentes Décapod pour les eaux pluviales…
Et voila le travail…
Pose des volets en général de 1cm de haut sur 4/5 mm de large et pose d'une cloison intérieure pour les arrières boutiques.
Pour ces commerces Jouef vous pourrez rajouter à votre gout :
–  Des futs de cheminée (profilé rond Evergreen 080 ROD 2mm).
–  les enseignes que vous réaliserez avec votre ordinateur en taille 6 à 8 mm maxi  sur 40 mm de longueur maximum (facile avec Word sur papier imprimé avec fond de couleur).
– un éclairage intérieur (bout de ruban 3 diodes avec une résistance ¼ de watt sur le + … Un peu de peinture couleur rouille sur les diodes pour atténuer l'éclairage et accentuer le coté jaune).
– Des rambardes aux fenêtres (rambarde laiton ABE 28 que vous aurez brunies).
– Du mobilier et des personnages pour donner vie à l'intérieur de vos bâtiments.
– Mettre des antennes, relier au réseau électrique…